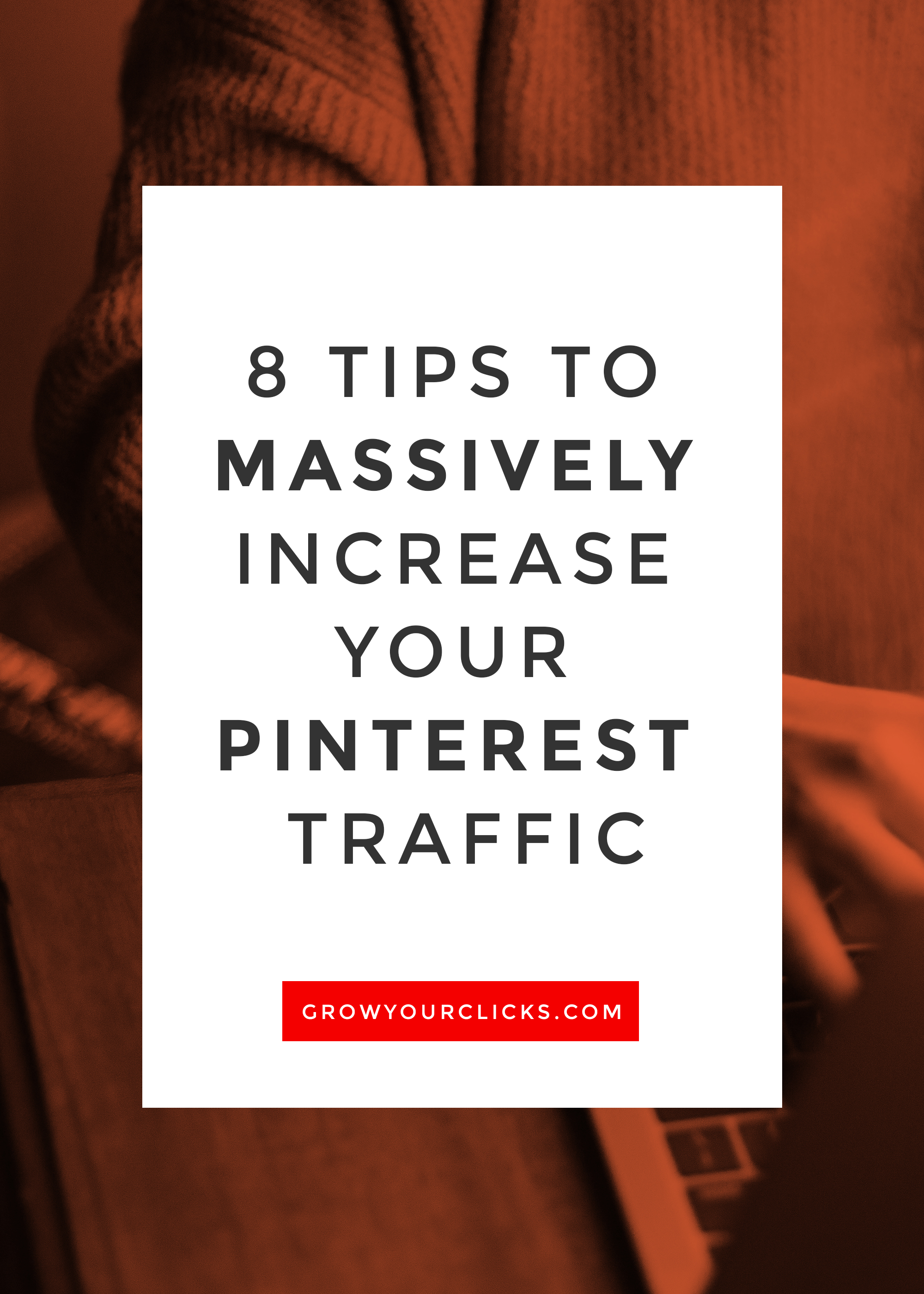 If Pinterest isn't part of your growth methods then you're missing out. It is one of the BEST ways to increase your blog traffic and grow your audience online. But if you're not in the fashion of pinning content daily you're missing out on a really easy way to make that happen.
Pinterest is one of the simplest ways I've found to grow my business because it generates a massive amount of traffic to my site.
Here are 8 things to check out to help you start growing your own Pinterest account today!!
1 | Add keywords to your business name
Keywords are literally the juice that Pinterest will be drinking up, and it's so important that its number one on this list! If you have a brand name or even if it's your personal name, make sure that you are adding relevant keywords in your name at the end. Two to three added keywords is all you need. In marketing? Add marketing strategist. In the food industry? try adding nutritional advice. Look up your competitors and see what keywords they are adding to their own names. This will take your business name a lot further as those relevant keywords are getting searched in the search bars of Pinterest. It will help you get noticed when people are typing and searching for different boards to join or niches that are popular.
2 | Red is more clickable than blue
Did you know, red-toned images are clicked and pinned more often than blue images? This is why I always tell you to make a big red button when you want someone to hit that "Buy Now" button. The same idea applies to Pinterest – red/pink/orange images get more action than blue/green images. Also, lighter images will receive more pins than dark images as well as images with one dominant color.
3 | Create boards related to your business/blog
This is another opportunity to include the keywords that are relevant to your niche to use in the description of each board that is associated with your account. It makes your profile very useful for Pinterest and others to know what you're all about, and you can get more followers if your boards show up to more people. But the only way for your boards to show up is if you have keywords in your descriptions. You want to specify what your boards are going to be about, so if you have a board all about social media pins, have around 10 to 15 social media keywords that better explain what the board is about. Think of your boards as an article or as a blog post on your website, just like you do SEO for Google, the same here applies to Pinterest.
4 | Photos are more pinnable than graphics
Photos with people (but not their faces incidentally) are more pinnable than graphics. 23 per cent more pinnable to be precise! This is the exact reason I changed the style of my images when I redesigned XOSarah.com making the photo background more apparent and covering it with only a splash of color instead of an entire colored background.
5 | Add titles and tags to your images
Make sure the title, alt tag, and file name of your image reflect what the post is actually about. The alt tag is the description that will automatically show up with a pin, so if you leave it blank there's no guarantee the pinner will be adding the information for you! Adding relevant keywords helps it show up on Pinterest as well as on search engines.
6 | Join group boards
You probably know you should be pinning your images to multiple boards, but to put your pins in front of a larger audience, join group boards. You can find boards to join through other pinners in your niche or create your own. And don't just jump on any group boards, check out their following and the quality of the pins. You don't want to be putting time into boards with spammy posts and only a few followers.
7 | Fill up your boards with quality content
Fill up your boards with good quality content from other pinners that are in your niche. Great Quality Content Should Have The Following:
A great template

Lots of repins

A captivating and clickable title

A good quality post to boot, with all links intact (stay away from broken links!)

Try to get in the habit of resharing the blog articles that you read fully to the end.
8 | Follow others
A lot of people say that Pinterest following counts doesn't really matter, but for me, I like to follow likeminded people still in the hopes that they will give my profile a look over and follow me back.
Don't turn a blind eye thinking that your following count isn't a top priority because it's still a good practice to follow like-minded accounts as this will let Pinterest know that you are genuinely interested in using their platform as a way to make connections and not just solely as a traffic source.
I hope these tips helped you grow your Pinterest traffic :)