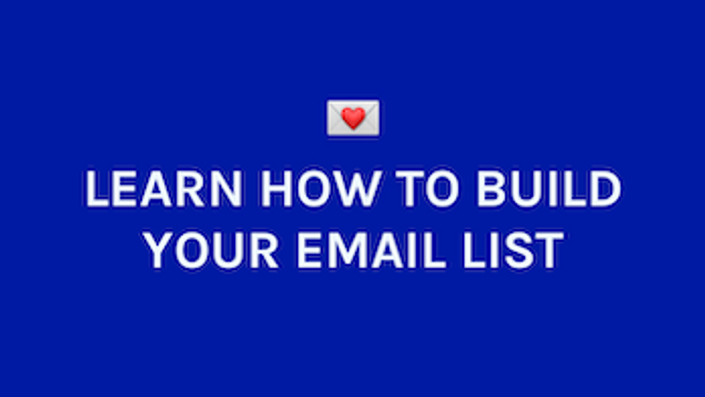 Ultimate Guide To Rapid Email List Building!
A step-by-step guide to go from 0 to 100,000 email subscribers in 30 days?

"Great and powerful course, the most powerful tool in the online world is email and this course provides you the tools to grow your list! The Instagram hack was genius"
- Enzo, Course Student
Hey 👋 ,

David Delahunty here…
The fact that you're reading this right now means you are interested in or curious to know more about the our amazing course.

You have questions, and I have answers.
So let's sort that out first…
Who This Course is For? 🤔
Anyone who is looking to start or grow a huge email list.

Anyone interested in driving sales.

Businesses that want to learn how to build their email list and be able to increase their customer base by a massive degree.

Anyone who wants to be able to scrape emails from any website.

"Love that it's concise and gives only usable information. it works. Nicely done."
- Debra , Course Student
Do you want to
Grow your Email list quickly
Generate 1000s of targeted emails every day
Learn quick growth hacks for scraping emails from ANY website
Drive huge amounts of traffic to your site/ blog
Start attracting RIGHT type of customers everyday for FREE

If you answered YES to any of the above questions, this is the RIGHT course for you.
If you are not actively scraping emails for your business or personal brand, you are losing!
**How can you afford NOT to use Email List Builder for your business?
This course will teach you the growth hacks I use to grow my own (and my client's) email list quickly.
Enroll right now and I will see you on the inside! 👇

Enroll now and join hundreds of happy members!
Course Curriculum
Growing Email List
Available in days
days after you enroll
Want bonuses? You got it. 🙌


Lifetime access and free updates to the course 😲
I regularly check the course to see if there's anything I can add or improve. You will always have access to the most up-to-date information and strategies, for free. PLUS, the course has JUST been updated with brand new videos and added strategies.
Lifetime access to our private Facebook group 😍
Awesome stuff goes down in our Facebook group, like networking, deals, and major lessons learned. I want you to be part of it.
Last, but certainly not least….
This means access to ME—directly.

You'll also get access to expert marketers, and a thriving community of like-minded people just like you.
🚀

I really look forward to working with you and watching your business grow from its current position to being a formidable top-tier player in your niche.
All you have to do is follow the 12 week Course which has been proven by dozens of business owners, marketers, entrepreneurs, marketing agencies and many more.
The choice is yours. Do you truly want this? And when?

Sincerely,

David Delahunty
Your Instructor

My Story
Over the last 2 years, I've built up a network. The network is over 2,000,000 followers spread across Twitter, Instagram, Facebook, Tumblr, Pinterest all in the creative niche.
The network is made up of the following:

800,000 followers on Instagram
1,000,000 followers on Twitter
125,000 followers on Tumblr
100,000 followers in Pinterest
34,000 followers on LinkedIn
1,000,000 strong email list
I've used my network to help me grow my own side projects and create many profitable businesses giving me the financial freedom to live the life I want to live.
Some of my side projects include the following:
http://www.growyourclicks.com/ (Surprise, surprise)
https://workforthem.com/
http://desket.co/
https://www.fiveideasaday.com/