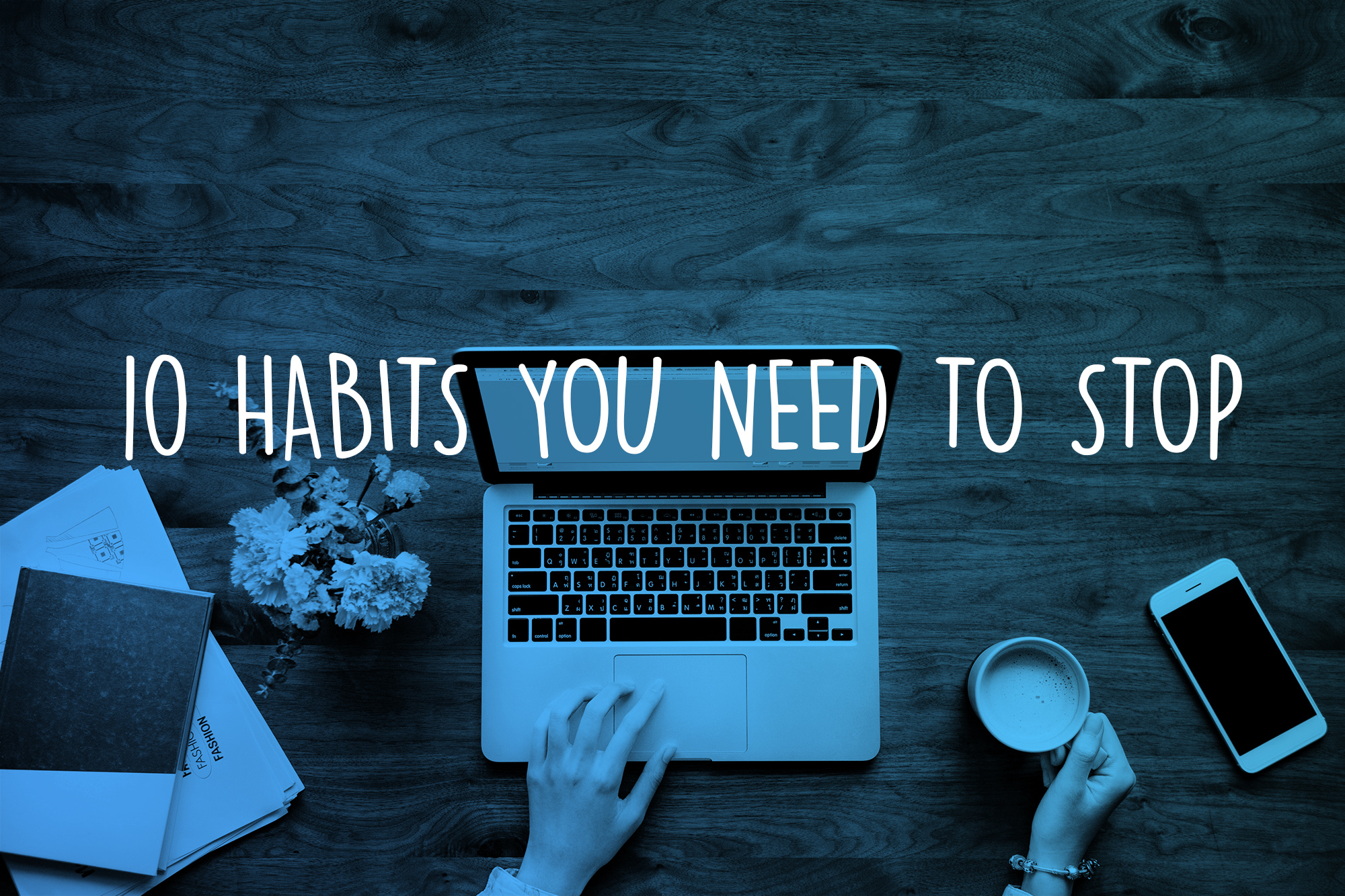 Your mind enjoys being productive.
Once it discovers something and does it repeatedly, it starts to become a routine.
This is why it's essential to stop and think about whether your habits are helpful or not.And it's exactly why I've come up with a list of 10 habits that you should stop doing asap
So, here are the 10 habits you need to stop…
1. STOP LIVING PAYCHECK TO PAYCHECK
If you are in the habit of living paycheck to paycheck, it's such an awful feeling.
I've been there. I used to be broke AF and had no clue how to change it. In a few short years, I've completely changed and transformed my life to becoming a financial expert and paying off $100k of student loan debt.
So, how can you do it?
The first step is becoming aware of your problem.
The second step is to get on a budget.
The peace that comes with having financial margin is far more valuable than any of these things.
2. STOP PUTTING OFF STARTING A SIDE HUSTLE
If you want to start a side hustle and you're putting it off, you need to stop.
This is a habit. You're in the habit of putting off your dreams.
It's sooo easy to do this. But the truth is there is never a right time
3. STOP BEING BUSY
Being "busy" is a state of mind. It means that you have too much going on that you haven't planned for.
The reality is that you can take all the actions in your head that you need to do and put them in order on your calendar and do them.
You can choose to do this without ever being "busy" again.
When you free yourself from saying you're busy, you get clarity on your life.
4. STOP LEAVING LIFE UP TO CHANCE
When you leave life up to chance, you don't set goals, which means you don't pursue your dream life.
In this scenario, you are living someone else's dream.
When you don't plan your long-term goals and set intentions for your life, the day-to-day overwhelm will get in the way of any chance you have at living the life you've always wanted.
This is no way to live.
5. DON'T BE YOUR OWN WORST ENEMY
Don't get in your own way.
If you think negative, hurtful thoughts about yourself, you're going to get in the way of living a better life.
Get in the habit of being your own best friend and thinking powerful thoughts that support whatever it is you want in life.
I use The Five Minute Journal to practice gratitude and make daily positive affirmations. I use it every day, and I'm kind of obsessed with it. With a simple structured format based on positive psychology research, you will start and end each day with gratitude.
6. STOP SURROUNDING YOURSELF WITH THE WRONG PEOPLE
Stop surrounding yourself with people who don't support you.
Whether it's because of their scarcity thinking or something else, if you don't separate yourself from them, they'll rub off on you.
You're the average of the five people you spend the most time with. Choose wisely!
You can come hang out with me and the awesome community of people who want to design their dream lives on Insta and FB here:
7. STOP COMPARING YOURSELF TO OTHER PEOPLE
Stop comparing yourself to other people.
This is particularly hard with social media because social media usually shows the highlights of people's lives (not the whole picture).
Remember that your only competition is yourself. Someone is completely different than you and you shouldn't compare your story with theirs.
And instead of following people online who make it hard for you not to compare yourself to, focus on following people who inspire you to design your dream life. You can follow me on Instagram for life-inspiring quotes to help you design your dream life.
8. STOP TRYING TO DO TOO MUCH AT ONE TIME
If you are trying to multitask and do a bunch of things at once, now is the time to stop.
This will kill your productivity and time management. You'll feel overwhelmed and out of control. You'll also feel exhausted.
9. STOP SAYING YOU "CAN'T AFFORD" SOMETHING
If you are in the habit of saying you can't afford to do something, you should stop asap.
This is scarcity thinking.
When you say you can't afford something, you're giving your power away to your money. Really, you are choosing to spend your money on something else — rent, bills, etc.
Reframing this will enable you to see that you are in control of the results you have in your life.
The truth is that you can change your money beliefs and generate more income. You can also cut expenses. You can get a job. You can do a million different things to change your life.
10. DON'T THINK YOU DON'T HAVE WHAT IT TAKES
If you doubt yourself — stop right now. I'm sooo serious about this one!
My dad told me from a very young age that I could do anything I wanted to. He told me it didn't matter that I wasn't that smart and wasn't in honors classes because I could just keep going and eventually out pace everyone if I stuck with it.
He was right.
You don't have to be the brightest or the most skilled to succeed.
You can succeed and you can win with whatever you're fighting for.
The best asset that you have is you. And you have to know that and believe in yourself to make it happen.
TAWEAWAY!
This post is all about what not to do. By stopping these habits, you'll start to improve your life and the results will be incredible.
Cheers to habits that help us — not hurt us! 🙂